Japanese Straight Perm
Are you tired of the frizzy wavy hair? Bonne Vie Hair Salon is here to save your day with their all-time famous Japanese straight perm.
It is a popular hairstyle that has been around for years. It is a type of hair perm that produces a straight, sleek look without frizz. However, not everyone knows how to nail it.
But what's the worry for? Our team of experienced experts at Bonne Vie sure knows how to fix any kind of hair you want – especially Japanese straight perm. Let's learn a little more about the service and what makes Bonne Vie Hair Salon exceptional!
What is The Japanese Straight Perm?
The Japanese Straight Perm, also known as Thermal Reconditioning or Yuko, is a modern perm popular among Asian women. It is low maintenance and natural-looking perm.
It straightens your hair for about 6-12 months (It can last longer if you follow a treatment every six months).
Bonne Vie has been providing this service for years now. Our experience speaks for our quality. Not only do our customers in Winter Park or Orlando come back to us for their services, but they also send over newcomers – that's how much they love our services!
Can the Japanese Straight Perm Damage Hair?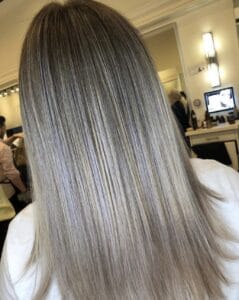 The Japanese Straight Perm is not as bad as many other chemical straightening treatments. Especially with bonne vie experts – they make sure it is a gentle process that doesn't involve using harsh chemicals or anything like that.
While many hair salons use harsh chemicals that can damage hair in the long run, Bonne Vie believes in a high-quality
 treatment since we have top-class, self-produced products available in our salon.
Even if there is any chemical usage involved, it is first viewed by our team of experts to ensure that it won't damage hair in the long run. 
This is why our customers only come back to us. Because who doesn't like a good hair day? And when Bonne Vie provides you with good hair for 06 months, it's worth the try!
Why Choose Bonne Vie for Your Hair?
Bonne Vie is a hair salon that specializes in providing top-notch hair treatments and services. We are committed to ensuring that all our products are of good quality, so we always make sure they are up to date.
The Bonne Vie staff is trained to provide you with the best possible service and ensure your satisfaction. We have been in this industry for many years now, so we have learned what it takes to make our customers happy.
Bonne Vie, Orlando is a salon that provides hair salon services for all genders and age groups.
They offer customized packages for their customers so they can get their style of choice without any hassle. Whether you want a haircut, color, highlights, or a perm, Bonne Vie has experienced stylists in all these different styles.
Bonne Vie is the perfect choice if you want to take care of all your hair care needs in one place. We are also open on Saturdays so that no matter your free time, we can help ensure that your hair looks fantastic!